Interview: Get Cape. Wear Cape. Fly.
12 February 2008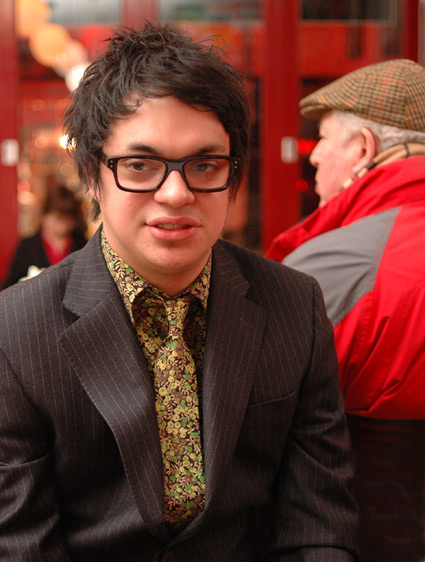 Get Cape. Wear Cape. Fly. (AKA Sam Duckworth, his band and a laptop) kicked off their 2008 UK tour at Brighton's Komedia on 12th February in support of his second album 'Searching For The Hows And Whys' (out 10th March). What with heading a full band around the country and being just 22 years old, you could be forgiven for expecting the singer-songwriter to have a rather sizeable ego by now. Luckily, this couldn't be further from the truth, as XYZ's Léo Rahban found out before the gig.
XYZ: You're just starting a UK tour, how are you feeling?
Sam Duckworth: It's a bit strange starting a tour; you don't know how it's going to go technically, how the crowd is going to be like. We're playing new songs as well. There are 7 new tracks in the set, I'm kinda hoping people will like them. Tomorrow could be quite stressful if people didn't like the songs!
Has success changed you a lot?
I think so, you know. The cars, the drugs, the women… They all get to you! (laughs). No, not hugely. The only difference between me then and me now is that I play in a band for 2 or 3 people and before I used to play on my own to no one. You get to see the world, work with incredible people, and watch amazing bands and shows. My life is a bit of a whirlwind now compared to before. But most of the people in my band I've been friends with before; if you surround yourself with good people there is no reason you'll change.
You recorded this album in just a few weeks of intensive 18-hour sessions. Was this a personal choice?
I started writing it 18 months ago as the first album was coming out. Then last Christmas I spent two weeks sleeping and waking up in the studio basically not washing or doing anything other than being in front of the desks and working on the record. But then working with Nitin Sawhney later on was a lot more serene, decent hour days and it's been really good fun working with somebody I look up to so much.
Do you work better under pressure?
I don't think I've ever not worked under pressure. In the studio I prefer when I've got no other option but to get on with things. I'm quite lazy really and if I've got a week to do something I'll do it all on the very last night.
You're an avid supporter of Love Music Hate Racism (LMHR). Can you tell us more about it?
It's about musicians promoting anti-racist and anti-BNP campaigns where the BNP have a presence, to encourage people to think before they vote. Also to tell people that if they suffer racist bullying there are people on their side as it's quite isolating. Bands can connect with a generation of people better than politics can I think. I base my politic views on music I listened to growing up like Black Flag. Music is a very good way of encouraging people to think and get involved with something incredibly pressing and incredibly important.
Would you consider having some sort of revival punk side-project?
Yeah, definitely. I think in a year there will be something. I don't know if we'll ever advertise it, I think we'll go on a tour and just get on and do it. Have some fun!
Your friend Kate Nash contributed to your last album, was it on the cards for a long time?
Yeah, I've known Kate for a while. She came on the road in January 2007 and we did that song together a couple of times. Then we recorded the album and she suddenly became massive! It's quite weird actually. I spoke to her the other day and I was like "I've been asked more about you on this campaign than I have about myself!" She's great but she's quite mad!
You appeared on 'Nevermind The Buzzcocks' recently. How was that?
That was the scariest thing that I've ever done in my entire life! It's shot for three and half hours and if you're not on point, the moment you slip up, BANG! They're going to be all over you. It was a good laugh though!
Your name refers to a Batman computer game. Are you a super hero fan?
No, not really, I just like the name. If there were a profound reason why I chose it, it would be cool coz i must have been asked 200 times now! I just didn't want to be called Sam Duckworth so GCWCF sounded good.
So you don't want to be a superhero and lead a double life?
Not really, if you're a super hero and you screw up, a lot of people are going to be pissed at you! I'm really struggling to keep up with one life at the moment, let alone two.
You must have a favourite superhero though!
If I could be anyone I'd be Batman. Batman is badass. If Superman were in a fight with Batman, although Superman is stronger and he's got more responsibility, Batman would win. He's the James Dean of superheroes.
Words by Leo Rahban
Photographs by David Tatnell