Interview: Blind Boys of Alabama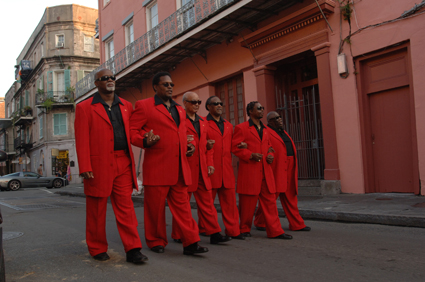 Blind Boys of Alabama are a gospel group that first formed at the Alabama Institute for the Negro Blind in 1939. With a career spanning over 69 years, including 61 releases and 4 Grammy Awards, these Blind Boys are truly inspirational. Drummer Eric 'Ricky' McKinnie gave Nats Spada the low down on all things spiritual.
One of the most hotly spoken about topics right now is Barack Obama becoming the new American President. Ricky is no exception: "We're all so full of excitement now you know, it was time for change and it shows you how great things can happen if you have hope." Ricky lost his eyesight to glaucoma back in 1975 so he is very familiar with a thing called hope. When he speaks about his life experiences, it's his positive outlook that makes it easy to convey how disability can be transformed into ability. "I'm a dreamer," he says, "I've always been a dreamer and I found out that as long as you can dream the dream, do the work and keep the faith, everything's going to be alright."
When you see Blind Boys of Alabama perform on stage, there is something truly entrancing about them, which in turn has lead to a worldwide following of fans, young and old alike. So what is Ricky's take on their success? "We sing gospel and people like the beat, but the music is universal and we sing from the heart. What comes from the heart reaches the heart." In most recent years they have performed and recorded with the likes of Ben Harper, Tom Petty, Peter Gabriel and Lou Reed. Earlier this year, Prince spontaneously joined them on stage at a showcase performance for their new album "Down in New Orleans". When I raise the possibility of a collaboration Ricky just giggles: "Nothing is confirmed yet but you never know!"
It has been a while since they've headed down to Brighton but this December the Blind Boys are back for a special, gospel-style Christmas show. Apart from Ricky describing the UK audiences as warm and friendly, he speaks excitedly about our food: "I love the English breakfast, your beans are something else you know!" With a huge back catalogue of material it must be hard to pick a favourite song but Ricky describes one song in particular that ignites his soul and guarantees will get fans up on their feet, "I love: "Free at Last", the message of that song is no matter what you want to do, ain't nothing gonna hold you down!" And nothing is holding the Blind Boys of Alabama back, not now and not ever.
www.blindboys.com
Words by Nats Spada, December 2008